AK Parti logo vector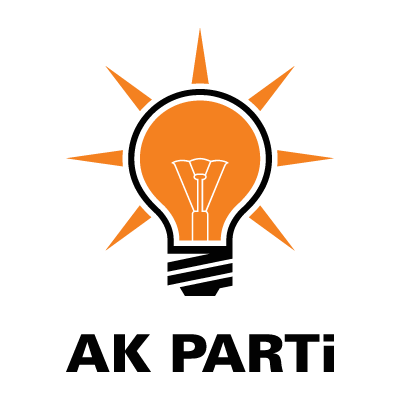 About AK Parti
The Justice and Development Party (Turkish: Adalet ve Kalkınma Partisi), abbreviated JDP in English and AK PARTİ or AKP in Turkish, is a centre-right conservative political party in Turkey. The party is the largest in Turkey, with 327 members of parliament. Its leader, Recep Tayyip Erdoğan, is Prime Minister, while fellow former party member and PM Abdullah Gül is President. In Turkish, Ak also means white.
Founded in 2001 by members of a number of existing parties, the party won a landslide victory in the 2002 election, winning over two-thirds of parliamentary seats. Abdullah Gül became Prime Minister, but a constitutional amendment in 2003 allowed Erdoğan to take his place. In early general elections in 2007, the AKP increased its share of the vote to 47%; its number of seats fell to 341, but Erdoğan was returned as PM, while Gül was elected President. In the general elections held on June 12, 2011, the AKP further increased its share of the popular vote to 49.8% and secured 327 parliamentary seats to form a third-consecutive majority government.
The AKP portrays itself as a pro-Western party in the Turkish political spectrum that advocates a conservative social agenda and a liberal market economy that includes Turkish membership in the European Union. In 2005, the party was granted observer membership in the European People's Party.