Black Sabbath Music logo vector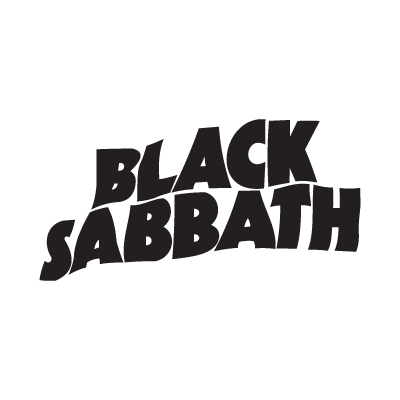 About Black Sabbath Music
Black Sabbath are an English rock band, formed in Aston, Birmingham in 1969 by Ozzy Osbourne (lead vocals), Tony Iommi (guitar), Geezer Butler (bass guitar), and Bill Ward (drums). The band has since experienced multiple line-up changes, with Tony Iommi the only constant presence in the band through the years. Originally formed in 1968 as a heavy blues rock band named Earth and renamed Black Sabbath in 1969, the band began incorporating occult and horror-inspired lyrics with tuned-down guitars and achieving multiple platinum records in the 1970s. Despite an association with occult and horror themes, Black Sabbath also composed songs dealing with social instability, political corruption, the dangers of drug abuse and apocalyptic prophesies of the horrors of war.
Black Sabbath are cited as pioneers of heavy metal. The band helped define the genre with releases such as quadruple-platinum Paranoid, released in 1970. They were ranked by MTV as the "Greatest Metal Band" of all time, and placed second in VH1′s "100 Greatest Artists of Hard Rock" list, behind Led Zeppelin. Rolling Stone called the band "the heavy-metal kings of the '70s". They have sold over 15 million records in the United States and over 70 million records worldwide. Black Sabbath were inducted into the UK Music Hall of Fame in 2005, the US Rock and Roll Hall of Fame in 2006, and were included among Rolling Stone's list of the 100 Greatest Artists of All Time.
Vocalist Ozzy Osbourne's heavy alcohol and drug usage led to him being fired from the band in April 1979, after which he began a successful solo career, selling over 55 million albums. He was replaced by former Rainbow vocalist Ronnie James Dio. After a few albums with Dio's vocals and songwriting collaborations, Black Sabbath endured a revolving line-up in the 1980s and 1990s that included vocalists Ian Gillan, Glenn Hughes, Ray Gillen and Tony Martin. In 1992, Iommi and Butler rejoined Dio and drummer Vinny Appice to record Dehumanizer. The original line-up reunited with Osbourne in 1997 and released a live album Reunion. The line-up featuring Iommi, Butler, Dio, and Appice reformed in 2006 under the moniker Heaven & Hell until Dio's death on 16 May 2010.
On 11 November 2011, the original band members announced that they were reuniting and recording a new album. The band performed a headlining slot at the Download Festival on 10 June 2012, with a world tour scheduled to follow. On 2 February 2012, Ward announced that he would not participate in the Black Sabbath reunion unless he was given a "signable contract." The following day, the other group members announced they had "no choice but to continue recording without him," but said "our door is always open" for Ward to return to the band.