Deutsche Bank logo vector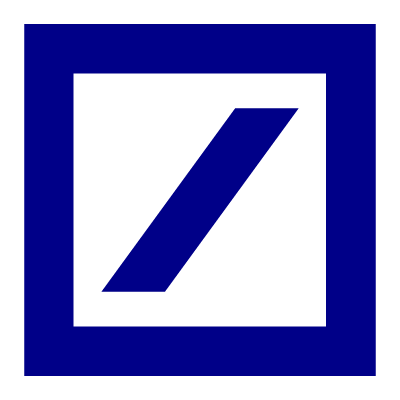 About Deutsche Bank
Deutsche Bank AG is a German global banking and financial services company with its headquarters in the Deutsche Bank Twin Towers in Frankfurt, Hesse, Germany. It employs more than 100,000 people in over 70 countries, and has a large presence in Europe, the Americas, Asia-Pacific and the emerging markets. In 2009, Deutsche Bank was the largest foreign exchange dealer in the world with a market share of 21 percent.
Deutsche Bank has offices in major financial centres including London, Madrid, Frankfurt, New York, Paris, Moscow, Amsterdam, Warsaw, Istanbul, Dublin, George Town, Cayman Islands, Toronto, Kuala Lumpur, São Paulo, Singapore, Hong Kong, Tokyo, Sydney, Dubai, Riyadh, Manila, Mumbai, Bangkok and Belgrade.
The bank offers financial products and services for corporate and institutional clients along with private and business clients. Services include sales, trading, research and origination of debt and equity; mergers and acquisitions; risk management products, such as derivatives, corporate finance, wealth management, retail banking, fund management, and transaction banking.
Deutsche Bank's Chief Executive Officer and Chairman of the Group Executive Committee is Josef Ackermann since May 2002. He agreed at the end of 2009 to continue as chief executive for another three years until 2013. On 26 July 2011, along with its second quarter earnings report, Deutsche Bank reported that Anshu Jain, head of investment banking and Juergen Fitschen, head of the German business, will replace Josef Ackermann as co-CEOs starting next year. Fears that Deutsche Bank could neglect its German roots and expand risk-taking activities prompted key members of the supervisory board to opt for the dual CEO model. Deutsche Bank is listed on both the Frankfurt and New York stock exchanges.
Another vector logos: