Air Canada logo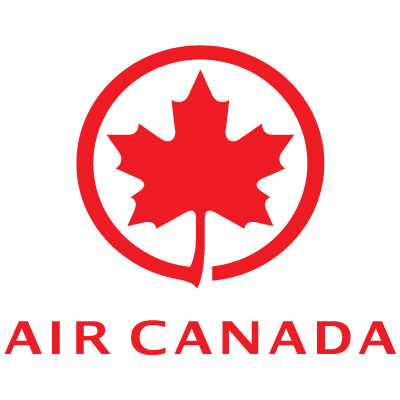 > Free download Air Canada logo vector in .AI format
About Air Canada
Air Canada is the flag carrier and largest airline of Canada. The airline, founded in 1936, provides scheduled and charter air transport for passengers and cargo to 178 destinations worldwide. It is the world's tenth largest passenger airline by number of destinations, and the airline is a founding member of Star Alliance, an alliance of 26 member airlines formed in 1997. Air Canada's corporate headquarters are located in Montreal, Quebec, while its largest hub is Toronto Pearson International Airport, located in Mississauga, Ontario. Air Canada had passenger revenues of CA$9.7 billion in 2008. The airline's regional service is Air Canada Express.
Canada's national airline originated from the Canadian federal government's 1936 creation of Trans-Canada Airlines (TCA), which began operating its first transcontinental flight routes in 1938. In 1965, TCA was renamed Air Canada following government approval. Following the 1980s deregulation of the Canadian airline market, the airline was privatized in 1988. In 2001, Air Canada acquired its largest rival, Canadian Airlines. In 2003, the airline filed for bankruptcy protection and, the following year, emerged and reorganized under the holding company ACE Aviation Holdings Inc. In 2006, 34 million people flew with Air Canada as the airline celebrated its 70th anniversary.
Air Canada operates a fleet of Airbus A330, Boeing 767, and Boeing 777 wide-body jetliners on long-haul routes, and uses Airbus A320 family aircraft, including the A319, A320, and A321 variations and Embraer E170/E190 family aircraft on short-haul routes. The carrier's operating divisions include Air Canada Cargo and Air Canada Jetz. Its subsidiary, Air Canada Vacations, provides vacation packages to over 90 destinations. Together with its regional partners, the airline operates on average more than 1,370 scheduled flights daily.