About Ziraat Bankasi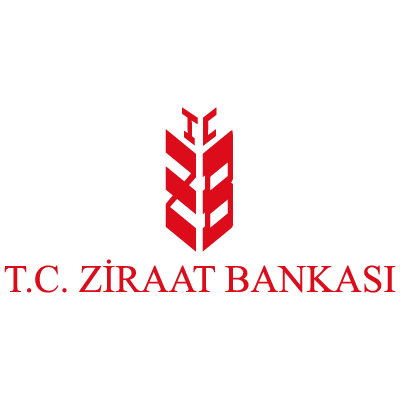 Türkiye Cumhuriyeti Ziraat Bankası (English: Agricultural Bank of the Republic of Turkey), also known as Ziraat Bankası, is the second biggest Turkish bank after İş Bankası. According to a report on the "Top 1000 World Banks in 2004" published by The Banker magazine, TC Ziraat Bankasi A.S. is ranked 115th. It had moved up 26 places from its previous ranking of 141.
History of Ziraat Bankasi
During the first half of the 19th century, with the adoption of western models of trade and finance, foreign banks began their activities in the Ottoman Empire. At that period, there was not enough capital to found a national banking system and no one could mention the existence of national banks as a source of capital. This situation was more harmful to farmers because they made up the majority of the population, and since they did not have any institutional financial structure to which to apply, they had to borrow money from the usurers with high interest rates. Under these conditions, the governor of Niş (Niš) province of the Ottoman Empire (now in Serbia), Midhat Pasha (1822-1884) began to take the first steps to overcome these difficulties in 1863 and achieved the reorganization of Homeland Funds, which became a law with Homeland Funds Regulations in 1867. Homeland Funds was the first agricultural financial institution founded by the state and operated with a state guarantee.
In 1888 Homeland Funds was renamed Ziraat Bankası (English: Agriculture Bank), and Ziraat Bankası's head office in Istanbul began to function. The Greco-Turkish War between 1919 and 1922 affected the bank's policy. The Greek Invasion Forces opened a Ziraat Bank Management Center in İzmir and occupied branches and funds were taken to the new Center's management. On the other hand Turkish Grand National Assembly charged the Ankara branch of Ziraat Bank with the management of branches and funds. On September 9th of 1922, the İzmir organization was subjected to Ankara and on October 23rd, the Istanbul organization was also subjected to Ankara. After the National Independence War was won, Ziraat Bank became a united whole again.
In 1993, Ziraat Bank Moscow, Kazakhstan Ziraat International Bank (KZI Bank), Turkmen Turkish Commercial Bank (TTC Bank) and Uzbekistan Turkish Bank (UT Bank) were founded and started to operate. In 2001, Emlak Bankası was merged with Ziraat Bankası and closed.