Guinness logo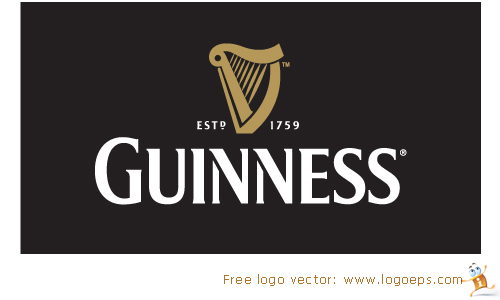 About Guinness
Guinness is a popular Irish dry stout that originated in the brewery of Arthur Guinness (1725–1803) at St. James's Gate, Dublin. Guinness is directly descended from the porter style that originated in London in the early 18th century and is one of the most successful beer brands worldwide, brewed in almost 50 countries and available in over 100 countries. 18,000,000,000 US pints (8,500,000 m3) are sold annually.
A distinctive feature is the burnt flavour which is derived from the use of roasted unmalted barley (though this is a relatively modern development since it did not become a part of the grist until well into the 20th century). For many years a portion of aged brew was blended with freshly brewed product to give a sharp lactic flavour (which was a characteristic of the original porter).
Although the palate of Guinness still features a characteristic "tang", the company has refused to confirm whether this type of blending still occurs. The thick creamy head is the result of the beer being mixed with nitrogen when being poured. It is popular with Irish people both in Ireland and abroad, and, in spite of a decline in consumption since 2001, is still the best-selling alcoholic drink in Ireland where Guinness & Co. makes almost €2 billion annually.
The company had its headquarters in London from 1932 onwards. It merged with Grand Metropolitan plc in 1997 and then figured in the development of the multi-national alcohol conglomerate Diageo.
Guinness logo history
'Guinness is good for you', or so the advertisements for this Irish stout once famously claimed. Whilst the claim, dating from a British advertisement from 1929 was a dubious one – modern anecdotes usually point to a Pint of Guinness containing about as much fat as a Roast Dinner – it was the opening shot of the brand's classic advertisement period.
Lead by a mischievous pelican, Guinness advertisements of the 1930s and 40s featured a group of zoo animals illustrated by legendary advertiser John Gilroy. Played out in print and cartoons, the typical advertisement involved the Guinness addicted animals cheating zoo-keepers out of their pints. The campaign is still fondly remembered, though the use of cartoon animals in adult drinks marketting is now prohibited. These zoo-animal Guinness adverts started the ball rolling for the drink's wider, international success. But Guinness had long been represented by a logo that has long been a powerful cultural and national symbol: the Guinness harp.
The Guinness harp was first introduced on the oval, monochrome labels of bottles manufactured in 1862. It was later registered as a trademark in 1876, nearly 125 years after the establishment of the St. James's Gate Brewery in Dublin. Supposedly designed after the 14th Century Trinity College (or Brian Boru's) Harp, it is one of the few business logos that has a real cultural connection to its homeland. As a Guinness logo, the harp faces right, whereas when used as a national symbol for Ireland – on the country's coat of arms and also on the reverse of the 1 Euro coin – it faces left, almost as if Guinness were having some inebriating effect on the instrument!
In their field, Guinness remains a force to reckoned with and are committed to making exciting, artistic and innovative campaigns. But above all, as one of Ireland's most recognisable company logos, the Guinness harp links the product to its nation, regardless of whether it's good for you or now.