HBOS logo vector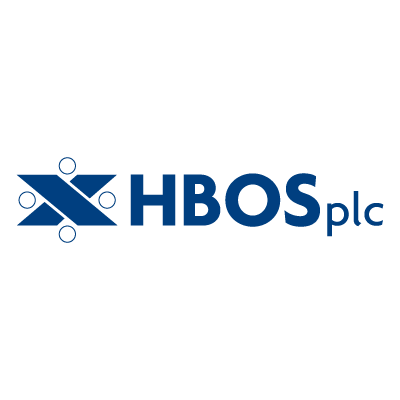 About HBOS
HBOS plc is a banking and insurance company in the United Kingdom, a wholly owned subsidiary of the Lloyds Banking Group having been taken over in January 2009. It is the holding company for Bank of Scotland plc, which operates the Bank of Scotland and Halifax brands in the UK, as well as HBOS Australia and HBOS Insurance & Investment Group Limited, the group's insurance division.
HBOS was formed by the 2001 merger of Halifax plc and the Governor and Company of the Bank of Scotland, and the formation of HBOS was heralded as creating a fifth force in British banking as it created a company of comparable size and stature to the established Big Four UK retail banks. It is also the UK's largest mortgage lender. HBOS Group Reorganisation Act 2006 saw the transfer of Halifax plc to the Governor and Company of the Bank of Scotland, which was now a registered public limited company, Bank of Scotland plc.
Although officially HBOS is not an abbreviation of any specific words, it is widely presumed to stand for Halifax Bank of Scotland. The corporate headquarters of the group were located on The Mound in Edinburgh, Scotland; the former head office of Bank of Scotland. Operational headquarters were based in Halifax, West Yorkshire, England; the former head office of Halifax.
The group became part of Lloyds Banking Group through a takeover by Lloyds TSB. This came into effect on Monday 19 January 2009 after both sets of shareholders approved the deal. HBOS continues to operate as a separate organisation within the new group, although over time it is likely to be restructured.
Lloyds Banking Group has stated that the new group will continue to use The Mound as the headquarters for its Scottish operations and will not cease the issue of Scottish bank notes.