Royal mail logo vector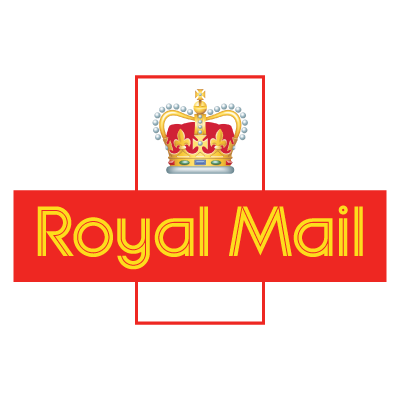 About Royal mail
Royal Mail is the government-owned postal service in the United Kingdom of Great Britain and Northern Ireland. Royal Mail Holdings plc owns Royal Mail Group Limited, which in turn operates the brands Royal Mail and Parcelforce Worldwide. Post Office Ltd. and General Logistics Systems, an international logistics company, are wholly owned subsidiaries.
Royal Mail Holdings is a public limited company in which the Secretary of State for Business, Innovation and Skills owns 50,004 ordinary shares plus 1 special share, and the Treasury Solicitor holds 1 ordinary share.
Historically, the General Post Office was a government department which included the Royal Mail delivery business, represented in Her Majesty's Government by the Postmaster General, a Cabinet-level post. It became a statutory corporation known as the Post Office in 1969. Most of the duties were passed to Consignia plc, a public limited company wholly owned by Her Majesty's Government, in November 2001 and the dormant Post Office Corporation was dissolved in 2007. Consignia changed to Consignia Holdings plc, then Royal Mail Holdings plc, the current name.
Royal Mail was not privatised in the 1980s or 1990s, and currently remains a state-owned company. However the Postal Services Act 2011 enables the government to privatise up to 90% of Royal Mail, with 10% being held by Royal Mail employees. The first sale of shares is expected in late 2013 or early 2014. The Act makes provision for Post Office Ltd. to continue to be owned by the Crown or a mutual ownership structure.
Royal Mail is responsible for universal mail collection and delivery in the UK. Letters are deposited in a pillar or wall box, taken to a post office, or collected in bulk from businesses. Deliveries are made at least once every day except Sundays and Bank Holidays at uniform charges for all British destinations. First Class deliveries are generally made the next business day throughout the nation.
In 2006, Royal Mail delivered 84 million items every working day and had a network of 14,376 post offices with a revenue of £9.056 billion, and profits before tax were £312 million. Since that time, profits have dropped year on year – £233 million in 2006-7 falling to a £10 million trading deficit in 2007. In 2008, the BBC reported that Royal Mail's trading position had worsened to an annual loss of £279 million/yr in financial 2007. For the financial year 2008-9 Royal Mail had an operating profit of £321m, with all four group businesses in a full year profit for the first time in two decades.
In Wales, the service carries the Welsh name Post Brenhinol, as well as the English name. Both names are normally used on vans, postboxes etc. It is also compulsory for all Post Offices in Wales to have the name Swyddfa'r Post on display outside.[12] Post Offices in Gaelic-speaking areas of Scotland, such as the Hebrides and parts of the Highlands, also display the name Oifis a' Phuist ("Post Office").[citation needed]
Another vector logos: