Viregn de Guadalupe logo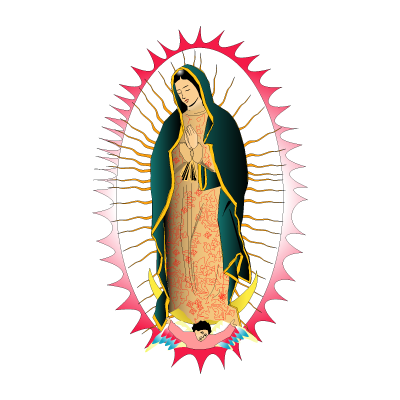 – Free download Viregn de Guadalupe logo vector in .EPS format
Our Lady of Guadalupe (Spanish: Nuestra Señora de Guadalupe), also known as the Virgin of Guadalupe (Spanish: Virgen de Guadalupe) is a celebrated Roman Catholic icon of the Virgin Mary.
Traditional accounts tell how, while walking from his village to Mexico City in the early morning of December 9, 1531 (then the Feast of the Immaculate Conception in the Spanish Empire), the peasant Juan Diego saw on the slopes of the Hill of Tepeyac a vision of a girl of fifteen or sixteen years of age, surrounded by light. Speaking to him in Nahuatl, the local language, she asked that a church be built at that site, in her honor; from her words, Juan Diego recognized the Lady as the Virgin Mary. Diego told his story to the Spanish Archbishop, Fray Juan de Zumárraga, who instructed him to return to Tepeyac Hill, and ask the lady for a miraculous sign to prove her identity. The first sign was the Virgin healing Juan's uncle. The Virgin told Juan Diego to gather flowers from the top of Tepeyac Hill. Although December was very late in the growing season for flowers to bloom, Juan Diego found at the usually barren hilltop Castilian roses, not native to Mexico, which the Virgin arranged in his peasant tilma cloak. When Juan Diego opened the cloak before Bishop Zumárraga on December 12, the flowers fell to the floor, and in their place was the image of the Virgin of Guadalupe, miraculously imprinted on the fabric.
The icon is now displayed in the Basilica of Our Lady of Guadalupe, one of the most visited Marian shrines. The icon is Mexico's most popular religious and cultural image, bearing the titles: the Queen of Mexico, and was once proclaimed Patroness of the Philippines (but later revised) by Pope Pius XI in 1935. In 1999, Pope John Paul II proclaimed the Virgin Mary Patroness of the Americas, Empress of Latin America, and Protectress of Unborn Children under this Marian title.