Have you imaged how the Pepsi logo looked in 100 years ago or known why the symbol on IBM logo changed over times? Below are five corporate brand logo stories that link to their current official site.
Pepsi
Pepsi, which was set up by Caleb Bradham in 1890's, is one of the biggest soft drinks worldwide. Therefore, finding a proper logo to attract more attention of consumers is very necessary. After this company was bought by Loft, Inc. in 1933, it changed the bottle size from 6 to 12 oz. and had the "Refreshing and Healthful" logo. However, Walter Mack, the CEO of Pepsi, then created an idea of a new bottle design with blue, red and white logo.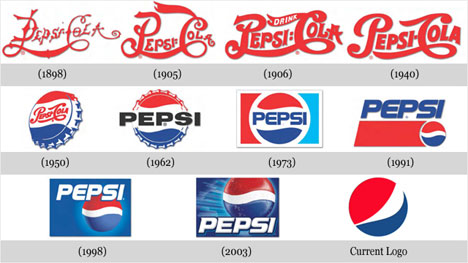 Logos of Pepsi through time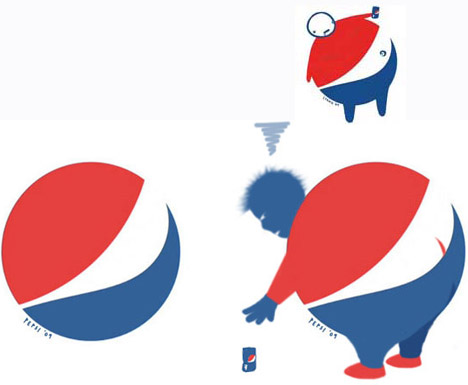 Through its development history, Pepsi has changed its logo several times later.
Looking at Pepsi's current logo, people may image about a chubby boy drinking much this drink as funny picture above
Nike
The Nike's logo designed by Caroline Davidson in 1971 for just $35 got the best deal amongst all companies. Initially, it included the text and the swoosh overlapping each other. Seven years later, Nike made it more simplistic and memorable. This logo now exists only the swoosh.

The company has different variations of this logo for its various departments like Skate, Soccer and etc.
Apple
Apple, which was established by Steve Jobs, Steve Wozniak and Ronald Wayne, is one of the biggest consumer electronics and Software Company and best known for its products like Macintosh, iPod and Iphone. When Apple was started, the logo was a complicated picture of Isaac Newton sitting under a tree. However, Steve Jobs hired Rob Janoff to simplify the logo, so he created the image of "Rainbow Apple" available till 1998.

Now, the Apple logo comes with nice gradient chrome silver design and becomes one of the most recognized brand symbols in the world today
Canon
When Canon launched the first camera, Kwanon, in 1934 after the Buddhist goddess of mercy, its logo also included the wordings and a picture of the goddess with 1,000 arms and flames. Like all other logos we have seen above, this company has then made the logo as simple and memorable as possible.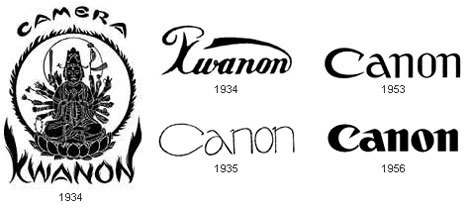 After 1956, the logo hasn't been changed but the designing effort is clearly visible in their simple but classic logo
IBM
If looking at the logo of IBM in 1888 invented by Willard L. Bundy, you could see "ITR", standing for International Time Recording Company (ITR), inscribed on it. ITR was then merged with the Computing-Tabulating-Recording Company (CTR) so both ITR and CTR were available in the 1911 logo.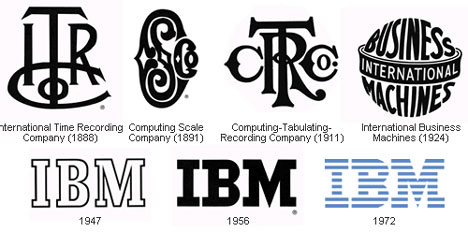 At present, the logo of IBM (International Business Machines Corporation) is simplified, recognized and replicated all over the world